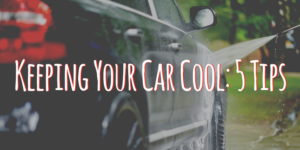 We all know how terrible it is getting into your car after it's been sitting in the scorching sun for hours. The seats and steering wheel burn your skin, the air takes forever to cool down and anything you forgot to take out, is already melted. Not only do these high temperatures hurt you, they also wear on your car. If you're sick of the heat and want to keep your car in great shape, consider these 5 tips:
Find a Shady Spot

Try to find a tree, overhead or garage to park your car under during a hot, summer day. Parking in a shady spot will reduce the heat entering your car and thus, keep it cooler.

Invest in a Car Sunshade

Purchasing a sunshade for your windshield and/or windows will protect your car from the sun's rays. Don't feel like buying a sunshade? Make your own! DIY with aluminum foil and a cardboard box: https://www.adamsautoadvice.com/diy-sunshade/

Cover the Steering Wheel

The burning sensation of touching a scorching steering wheel can easily be avoided by covering your wheel with a steering protector, towel or blanket.

Keep the Windows Cracked

If the weather allows it, consider cracking one or two of your windows. This will allow air ventilation throughout your car so it's not as hot when you get in to drive.

Check Your Fluids

Not only do you need to take precautionary steps for your health but also your car's health. Checking your car's fluids such as the oil, coolant, battery fluid, brake fluid, steering fluid and washer fluid can make a significant difference in keeping your car cool this summer.